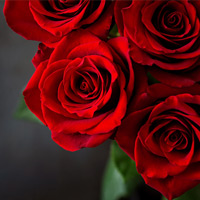 Share a Memory
Place of Rest
Sunset Memory Gardens
8901 Lawyers Road
Charlotte, NC 28227
Druecilla Elizabeth Grier
February 6, 1933 - March 7, 2023 (Age 90)
Mrs. Druecilla Grier, 90, of Charlotte, NC., departed this life on Tuesday, March 7, 2023, at Levine and Dickson Aldersgate.
Gone from us her smiling face, the cheerful pleasant ways, the heart that won so many friends, in bygone, happy days. A life made beautiful by kindly deeds, a helping hand for others' needs. To a beautiful life comes a happy end; she died as she lived, everyone's friend.
Druecilla Elizabeth Long Grier, daughter of the late Floyd M. Long and Mary Russell Long, was born February 6, 1933, in Cabarrus County, North Carolina. She departed this life at the age of 90 on March 7, 2023 at Levine & Dickson Hospice House at Aldersgate in Charlotte, NC. She was the matriarch of her family and enjoyed being around them during family gatherings. She was educated in the Charlotte Mecklenburg County Schools where she went on to work for them and retired. Druecilla was a member of St. Paul Presbyterian Church for several years and a member of the Order of Eastern Star. She was loved by many and will be missed terribly.
Druecilla was inspired by Jesus Christ and loved the Lord. She served as a member of St. John Baptist Church where she was the director of Voices of Hope and Angels of Love Choir, a Sunday School teacher, president of the Missionary Department, along with other various roles in the church. She was known by her grandchildren as "Granny." Granny loved the Lord and made sure her children and grandchildren attended church regularly. She was devoted to her family and took great pride in being their mother and grandmother.
Druecilla is preceded in death by her parents; her husband, Samuel Grier; one son, Charles William Grier; four brothers, Rev. Floyd M. Long, Rev. Marvin Ray Lon, Clyde Long, and Harold Long; four sisters, Magnolia Wilson, Floria Grace Montgomery, Carrie Daniel, and Gloria Reel; one grandson, Antonio Grier.
She leaves to cherish her memories three sons, Andrew Grier, Melvin Grier (Betty), and Marvin Grier (Jenell); three daughters, Dorothy Elizabeth Blackmon, Carolyn Johnson (James), and Jocelyn Alexander; two sisters, Sarah Weddington, and Brittany Claire Wesley (Leonard); nineteen grandchildren, forty-four great-grandchildren, twenty-two+ great-great-grandchildren; and host of nieces, nephews, and other relatives.
---
Share a Memory of Druecilla