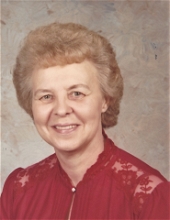 Share a Memory
Place of Rest
Restlawn Memorial Gardens
11128 Cash Valley Road NW
LaVale, MD 21502
Madeline Fisher
April 21, 1930 - May 8, 2023 (Age 93)
Madeline Iona Chaney Fisher, 93, formerly of Old Furnace Road, died May 8, 2023 at her residence in Keyser.
Born April 21, 1930 in Wiley Ford, WV, she was the daughter of the late Robert E. and Ella Mae (Valentine) O'Brien.
She was also preceded in death by two husbands, Raleigh Chaney and Abraham "Red' Fisher; seven brothers and five sisters; a step-son Robert Fisher; and, a step-daughter, F. Marlene Giamarco.
Mrs. Fisher attended Fort Ashby Schools and was a member of the Old Furnace Church of the Brethren and St. Paul's United Methodist Church, where she belonged to the Women's Christian Fellowship.
She worked for Dawn View Nursing Home as a laundry attendant, retiring in 1999. In her earlier years, Mrs. Fisher was a Red Cross Service worker. After retirement, she also worked for Frank's Laundromat.
Survivors include her children, Betty Weaver and husband Roy, Barboursville, WV, Vicki Kimble and husband Ronald, Keyser, WV, and Dale Parker and wife Laura, Patterson Creek, WV; step-children, Michael J. Fisher and wife Barbara, Cumberland,MD; daughter-in-law, DiAnn Fisher, Keyser, WV; son-in-law, Louis Giamarco, Wakefield, MA; grandchildren, Jason Weaver and wife Jessica, Melissa Parsons, April Marcus and husband Clinton, Lindsay Bush and husband Michael, Ashley Parsons and husband John, Heather Chaney, and Brittany Stickley and husband Travis; great grandchildren, Brittany, Hannah, Caleb, Lukus, Danika, Joshua, and Madelyn who was named after her, and Harper; eight great great grandchildren, Aubrey, Bella, Ayden, Asher Addilynn, Elijah, Wyatt, and Jaxston; seven step-grandchildren; 10 step-great grandchildren; a sister, Dorothy Stover; and, nieces and nephews.
Friends will be received at the Upchurch Funeral Home, Inc., Fort Ashby, on Thursday from 11 AM until noon. The funeral service will follow at noon, with Pastors Ann Merkel, Robert Lowell, and Joyce Collett participating.
Interment will be in Restlawn Memorial Gardens.
The family appreciates the kind, compassionate care provided by WVU Hospice and "Mom's Angels."
---
Share a Memory of Madeline