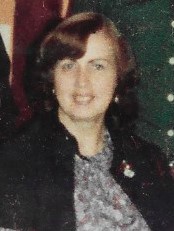 Share a Memory
Place of Rest
Zanesville Memorial Park
1475 Military Road
Zanesville, OH 43701
Margaret L. Wilson
September 21, 1935 - November 16, 2022 (Age 87)
Margaret L. Wilson, 87 of Zanesville, died peacefully on November 16, 2022, at Genesis Morrison House of Zanesville, Ohio.
She was born on September 21, 1935, in Zanesville, Ohio, daughter of the late Caroll G. Angles and Mary E. (Clark) Angles. Margaret was a member of South Zanesville Church of the Nazarene. She worked at United Technology for 30 years. In her spare time, she enjoyed crocheting and spending time with her husband, Neil.
She is survived by her husband of 69 years, Russell "Neil" Wilson; son, John Wilson; daughter, Karen Wilson; sisters, Geraldine Lee, Patty Ladd, Linda Angles.
In addition to her parents, she is preceded in death by her brothers, Bill E. Angles, Rollie Angles; sister, Donna R. Farmer.
Calling hours will be held on Monday November 21, 2022, from 2:00-4:00 PM at DeLong-Baker & Lanning Funeral Home. Services will be held on Tuesday November 22, 2022, at 11:00 AM at DeLong-Baker & Lanning Funeral Home with Rev. Darren Tolbert officiating. Burial will follow services at Zanesville Memorial Park Cemetery.
DeLong-Baker & Lanning Funeral Home is assisting the Wilson family with arrangements.
---
Share a Memory of Margaret