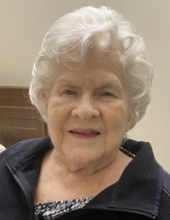 Share a Memory
Place of Rest
Sunset Memory Gardens
8901 Lawyers Road
Charlotte, NC 28227
Betty Jean Thompson Foard
March 29, 1929 - March 1, 2023 (Age 93)
Betty Jean Thompson Foard was born on March 29, 1929 to Carl and Myrtle Lillian (Stogner) Thompson of Lancaster, SC, and passed away peacefully on Wednesday, March 1, 2023. Betty graduated from Buford High School in Lancaster, SC, in 1946. She then moved to Charlotte where she attended Kings Business College and began working for Southern Bell Telephone & Telegraph Company. Betty met her late husband, Merwin E. Foard, Sr., who also worked for Southern Bell, at the annual "Telephone Follies" where she was a member of a dance troop as the lead tap dancer, and he was a featured soloist. Betty and Merwin married at Myers Park United Methodist Church, Charlotte, in 1957 where they both served as church and choir members. Betty and Merwin had two children, Merwin E. Foard, Jr., and Jeana Lynn Foard Stewart. Betty worked 35 years for Southern Bell before retiring in 1984. She was a highly esteemed employee throughout her career in the organization.
Betty was a member of Midwood Baptist Church, Charlotte, and was a blessing to all who knew her. She had an inner radiance that shone forth her love of Jesus Christ, her Lord and Savior, and her love of life. Betty's personal salvation through Jesus was foundational in her life from early childhood. Her abiding faith was evident through her positive outlook and contagious joy. Betty was a prayer warrior and was known for her constant encouragement. Betty served in every church the family attended through her life during the more than 50 years where her husband served as the Minister of Music. At Midwood Baptist Church, Betty was a dedicated choir member, Sunday School class leader, member of the Women's Missionary Union and Joy Fellowship Senior Adult Ministry, and secretary of the Nominating Committee.
Betty had a youthful spirit and vitality that were uniquely her own. Her kindness and compassion toward family, friends, acquaintances, and strangers was genuine and deeply demonstrated. From childhood, Betty loved to sing, dance, read, and ride horseback. She excelled in writing and journalism, and loved to interview people for various articles or publications. She was also an expert Bridge player. Betty was often referred to as being a "ray of sunshine" and will be fondly remembered for her exuberant and engaging personality.
Betty is deeply loved by her family. She is survived by her daughter Jeana Foard Stewart; son-in-law Robert Stewart, Jr.; grandsons Ryan Laine Stewart and Robert Landon Stewart; granddaughters Phoebe Adelia Foard and Bailey Jean Foard; and great-grandson Robert Merwin Dolan. Three sisters: Carlene Thompson Kiser, Mary Thompson Harper, and Linda Thompson Arruza. One sister-in-law Norma Foard Alexander, as well as many nieces, nephews, and cousins. Betty is predeceased by her husband Merwin E. Foard, Sr., son Merwin E. Foard, Jr., parents, four brothers Ned Thompson; Carl Thompson, Jr.; Tommy Thompson, and Larry Thompson, and three sisters Naida Thompson Caterina; Pearl Thompson Balowsky; and Ann Thompson Grayson, as well as many sisters- and brothers-in-law.
A Celebration of Life Service will be held at Midwood Baptist Church on Wednesday March 8 with visitation at 9:30 AM and service at 10:30 AM. Burial will be at Sunset Memory Gardens, Charlotte, NC, following the service. Memorials may be made to Midwood Baptist Church, 2029 Mecklenburg Ave., Charlotte, NC 28205. Tribute & Tallent Funeral Service of Charlotte is serving the family.
---