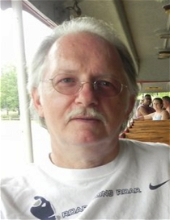 Share a Memory
Place of Rest
Restlawn Memorial Gardens
11128 Cash Valley Road NW
LaVale, MD 21502
Michael L. Bucy
April 28, 1954 - May 6, 2023 (Age 69)
Mt. Savage, MD – Michael Lynn Bucy, 69, of Mt. Savage, MD, suddenly passed away Saturday, May 6, 2023, at his home.
Born April 28, 1954, in Somerset County, PA, Mr. Bucy was the son of the late Herbert Dwight Bucy and Floy Marie (Murray) Bucy. He was also preceded in death by his brother: Gary Bucy.
Michael graduated from Mt. Savage High School and the Career Center in 1972. He began working with Rus and retired from Cintas with more than 35 years of service. Michael was also employed with Allegany Electronics. He was a member of the Piney Mountain Sportsman Club, Federal Hill Sportsman's Club, Barrelville Outdoor Club - There is a Santa Program. Michael enjoyed making wooden American Flags and refurbished saw blades. He had a huge interest in Corvettes and attending the races. Michael was also an avid hunter.
Michael is survived by his wife of 45 years: Teena Bucy; his sons: Jason Bucy, Colby Bucy and wife, Amanda, and Tyler Bucy and wife, Nikki; his sister: Doris Smith and husband, Billie; his grandchildren: Camryn, Aurora, Brandtley, Kyle, Trent and Madison; his sister-in-law: Lisa Williams and Jim House; his special friends: Jake Wilhelm, Jim House, and Artie Burl; and his nephews: Dalyn Sites, Travis Bucy, and Casey Smith; as well as his great nieces, great nephews and cousins.
Friends will be received at the Adams Family Funeral Home, P.A., 404 Decatur Street, Cumberland, MD, on Thursday, May 11, 2023, from 2:00 P.M. to 4:00 P.M., and from 6:00 P.M. to 8:00 P.M.
A funeral service will be conducted at the funeral home on Friday, May 12, 2023, at 11:00 A.M., with Sue Cook officiating.
A private interment will be in Restlawn Memorial Gardens at a later date.
In Lieu of flowers, donations may be made to Mt. Savage Fire Hall 15701 Iron Rail St, Mt Savage, MD 21545 and There is a Santa Program at Barrelville Outdoor Club 11616 Rolleville Rd, Mt Savage, MD 21545.
---
Share a Memory of Michael